Self-Wash
We give you everything you need to make your dog shine like a champion! Enjoy a hands-on experience with your pooch without any mess or drama at home. We even supply the kids with raincoats to enjoy the fun of washing the family canine! Our facility can accommodate dogs of all sizes with state of the art tubs and K-9 hair dryers.
Providing your dog a bath in your home means blocked drains, messy bathtubs, and a sore back. At Urban Pooch Training & Fitness Center- 5400 N Damen Ave, we take away the mess and stress with our self-service pet wash in Chicago, IL. Our Mutt Jackson Self-Wash Tub is elevated to accommodate pets as small as a Shih Tzu and as big as a Mastiff. No reservation needed - so just walk on in! You can call us at 773-961-8880 with any questions - our helpful, educated team are more than happy to address any questions you may have. ***SELF-WASH CLOSES ONE HOUR BEFORE END OF REGULAR BUSINESS HOURS.*** ***HOURS & AVAILABILITY SUBJECT TO CHANGE AROUND MAJOR HOLIDAYS! BETWEEN THE DATES OF THANKSGIVING & CHRISTMAS CALL TO CONFIRM AVAILABILITY AS WE WILL HAVE ABBREVIATED HOURS & SERVICES DURING THIS TIME.***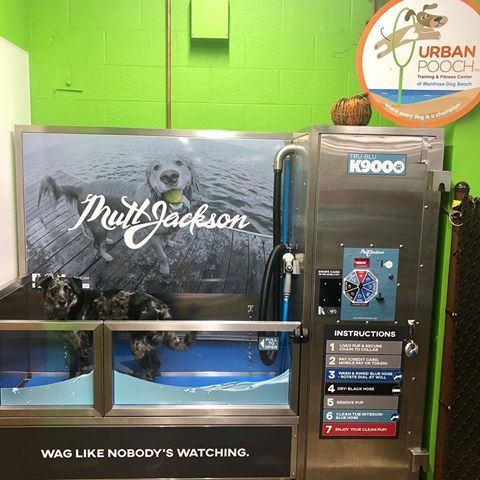 THIS IS A SHARED SPACE
Please be respectful to the Urban Pooch Bathers and other Self Wash Clients using the room!
Please refrain from petting dogs unknown to you unless permission is granted!
Self Wash runs on a first-come, first-serve basis! If you have a tub preference that is currently in use, please be patient until it is available!
SHAMPOO
You have 2 options, Hypoallergenic or Oatmeal shampoo
○ Conditioner is available for $2 or $4 depending on how much you require
○ Alternative shampoos available for an additional fee
TUB
We have a lovely, walk-in tub for dogs of all sizes, as well as a smaller, raised tub for our little friends!
TOWELS
We have standard towels, as well as the innovative ABSORBER PRO DRY© towels (Ask us how they work!)
DRYERS
Our power dryers are available to use, please ask for assistance if you have not used them before, and use with caution if your pooch is afraid of loud sounds!
BRUSHES
We have several types of brushes available for you to use during and after your baths.
EAR CLEANER
If you would like to clean your pup's ears while they're in the tub, you are also permitted TWO cotton balls, one for each ear, with ear cleaner on them. Please ask a bather to assist you.
1. Self Wash visits are limited to ONE HOUR. Any visits lasting over an hour are subject to additional charges.
2. Please limit the number of persons to TWO per visit. Additional guests can relax in our Viewing Room during your pooch's bath.
3. Any children accompanying the bath MUST be under direct supervision at all times inside the bathing room.
4. If your pooch is not good with others, or if they are afraid of loud, busy places, please call and plan your visit ahead of time so we can best accommodate your pooch's needs.
5. ABSOLUTELY NO USE OF SCISSORS, NAIL CLIPPERS, OR PERSONAL DREMELS ARE PERMITTED BY SELF WASH CLIENTS
a. We understand you may have experience using these tools, but for the safety of everyone in the room please refrain from any activities beyond your pooch's bath itself. Services can be requested and attended to by a professional bather.
6. Self Wash closes ONE HOUR prior to the closing time of the Urban Pooch Canine Life Center. That means you must arrive with time to COMPLETE your bath before the Self Wash closes for the day.
Click Here To Read Rules & Regulations
SELF WASH HOURS:
Monday – Friday: 8am-7pm
Saturday-Sunday: 9am-3:30pm
House Shampoos: Hypo-Allergenic Coconut or Oatmeal & Baking Soda
---
Urban Pooch Canine Life Center
PLEASE NOTE: The self-wash is currently closed at this location.
Urban Pooch Training & Fitness Center
Pricing is for our Mutt Jackson.
Panel only seen by widget owner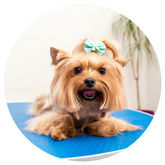 Dog Laundry
You take away a spotless dog, and our staff tend to the mess and laundry.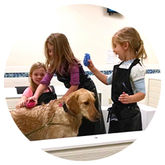 Self-Service Dog Wash
Our self-service dog wash permits you to stand in comfort at the dog washing station, and we provide all the things needed to give your dog a professional wash.
Come visit us in Chicago, IL specializing in quality food, treats, fun toys, and supplies for cats and dogs.