Carnivore nutrition.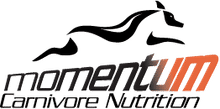 Urban Pooch Training and Fitness Center is proud to carry Momentum in Chicago, Illinois. "We love our pets and our pets unconditionally love us back. This motivated us to make sure they were as happy and as healthy with their diet as we were."
Cat & Dog Treats:
Chews and Treats: Beef Hearts, Buffalo Tripe, Chicken Hearts, Chicken Breast, Chicken Liver, Chicken Nibblets, Chicken Tenders with Sea Kelp, Duck Necks, Pork Tenderloin, Salmon, Turkey Hearts, Turkey Liver, Turkey Nibblets
We're proud to provide the city's largest team of differentiated, award-winning trainers, who can solve any behavior issue.