Dog Boarding
We are currently accepting new clients for boarding at 4501 N Ravenswood Avenue. Please call 773-942-6445 to schedule a socialization test at least 3 weeks prior to your desired Boarding Date.

Your dog will have a great time spending the night with Urban Pooch. Comfy beds provided – No cages ever. Overnight, dogs sleep in an open pack accompanied by a counselor. Our overnight playrooms are set up with Kuranda beds & blankets, but most pooches end up on the bed with the counselors.
NOTE: after your socialization test is completed, your pooch will be required to visit our facility at least two times for daycare before boarding. We do this to ensure they are acclimated and familiar with our environment.

2023 BOARDING (LODGING) AT URBAN POOCH CANINE LIFE CENTER EFFECTIVE MARCH 1ST, 2023 FAQ
(Holiday Boarding is an additional $10/ night.)
Feeding - $5 per meal, free if you provide your own food.
IMPORTANT- Please prepare your food
We require you to bag up food for your pooch by meal – e.g. breakfast, dinner – and label it, with your dog's name and breed, for an overnight stay. We would love for you to bag it, but if that's not possible, we have to charge you $7/day for our employees to do it – as it is time-consuming.
Socialization
Each dog must complete a 2-hour Socialization. At the beginning of the Socialization, you and your dog will meet with a Daycare Counselor who will show you our facility and explain our procedures. After a brief interview with you and your dog, our Daycare Counselor will take your dog into the daycare room and observe how they interact with the rest of the pack.
You can stay and watch your dog on our daycare cameras or leave and return at the end of the 2-hour appointment. At the end, our Daycare Counselor will give you a report card explaining how your dog behaved in the daycare room. If your dog fits well in the pack they are welcome to come back anytime during daycare hours. Most dogs pass Socialization with flying colors and make many new human and dog-friends in the process!
Appointments for Socializations are available 7 days a week and conducted at 9:15 AM, 10:15 AM, and 11:15 AM. Please schedule a Socialization appointment by calling 773.961.8880 or emailing us at reservations@urbanpooch.com.
In order to get to know you and your pooch, we ask that you fill out a few forms.

Health Policy
Hours for Pick Up and Drop Off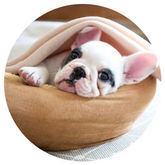 Overnight Boarding
Overnight, dogs sleep in individual, comfortable runs in which they have quiet, personal space after a full day of play.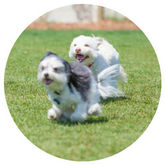 Pet Daycare
Your pet will have the freedom to frolic in a spacious indoor and outdoor play area. Separate play areas for large dogs, small dogs, senior pets, and cats.
We're proud to provide the city's largest team of differentiated, award-winning trainers, who can solve any behavior issue.